4 Stroke Head Machining
We do a lot of work on four stroke engines from motorcross bikes, street bikes to ATVS no job is to small. Rebuilds include machining valve seats and valve guides out of C63000 bronze, replacing valves, valve guides and seals. If its power that you're looking for we also offer four stroke head porting and modifications.
Four Stroke Head Services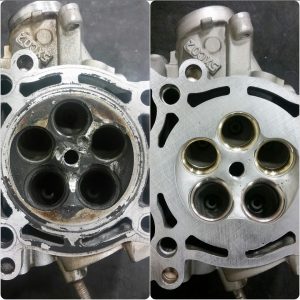 Resurface Single $49.95
Re-cut Valve Seats $24.95 ea
Install Valve Guides $14.95 ea
Decarbon Two Valve Head $99.95
Decarbon Four or Five Valve Head $119.95
Cylinder Head Porting $ Call for Pricing
*Prices subject to change.
All Cylinder head for seat cutting are subject to cleaning and re-surfacing fee plus a one time set up fee.
Various cylinder heads ready to go for your convenience!